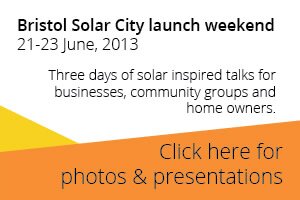 Bristol Solar City is a group of local organisations united by the goal of seeing Bristol become the UK's solar capital. Our partners include education and research institutions, community energy groups
, cooperatives, installers and wholesalers of renewable technologies. Our aims are supported by Bristol City Council and the new Mayor of Bristol, George Ferguson.
We want to see Bristol recognised at the UK's solar capital; installing 1GW of solar PV by 2020. While this may seem an ambitious task Bristol is well placed to meet the challenge. Bristol has shown itself to be a leader in sustainability and renewable technologies; we've been in the top five of the UK's Greenest Cities for the last six years and have just been awarded European Green Capital 2015. Bristol is also the sunniest of the UK's major cities, we have a reputation for making things happen in our communities and have an elected Mayor with ambitious green targets. Add to this our heritage as an innovative city and we are in an ideal position to turn our dream into a reality.
Our Aims
Bristol Solar City has three main aims:
For Greater Bristol to install 1GW of solar PV by 2020
To deliver clean, green jobs to Bristol
To put Bristol on-track to having the cheapest energy in the UK
What will it mean for Bristol?
1GW of solar PV would produce more than 870,000,000 kWh of electricity each year, far exceeding the electricity requirements of all the homes in Bristol.
As energy prices continue to rise, generating our own clean green energy would provide energy security and economic stability as a city, as well as helping to reduce the bills for homes and businesses across the region. It would also reduce our collective carbon emissions by 460,000 tonnes each year, create local jobs and develop businesses in the region and provide a lasting legacy for generations to come.